Just over a month on the job, Green Bay Packers Head Coach Matt LaFleur has completed the first, significant order of business, assembling his coaching staff.
And it's a big staff.
24 assistants will collaborate with the rookie Head Coach to try and get the franchise fortunes turned around.
Today was meet and greet day at Lambeau Field.
The key players were given press conference status inside the stadium's media auditorium while the rest of the staff were interviewed informally inside the locker room.
What struck me most about the day was the overall youth of the staff. Outside of returning defensive coordinator Mike Pettine and new inside linebackers coach Kirk Olivadotti, nearly all of the assistants are the ages of my two children.   
As they say in the NFL, it's a young man's game and that certainly applies to the 39 year old boss who opened today's get acquainted party by addressing his assembly plan and the two most important hires, Pettine and offensive coordinator Nathaniel Hackett:
 (Audio: Matt LaFleur)
Next up at the podium was Hackett, the son of Paul Hackett the former college and NFL Head Coach who was among the first to study the West Coast system of offense developed by Bill Walsh.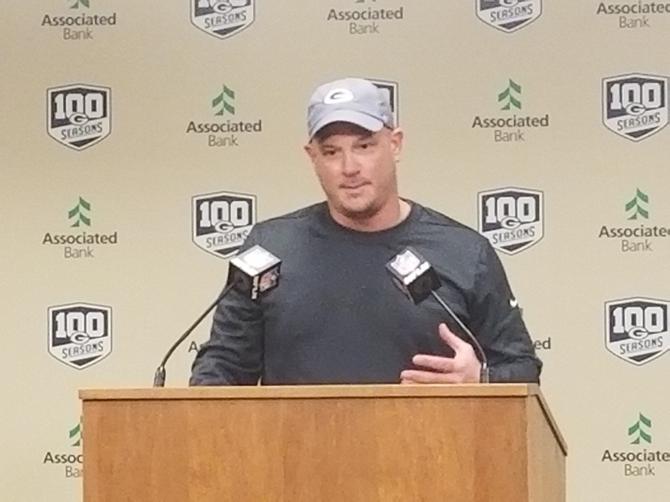 (Packers Offensive Coordinator Nathaniel Hackett)
Hackett has a prior history with LaFleur but he also has a history with Matt's predecessor, Mike McCarthy who was a pupil of his father at the University of Pittsburgh.
 (Audio: Nathaniel Hackett)
The only staff member with any Head Coaching experience is Pettine who led the Cleveland Browns in 2014 and 2015.    Pettine was brought to Green Bay by McCarthy last year and while he didn't pursue the Head Coaching job here, he had a feeling he'd be retained by LaFleur:
 (Audio: Mike Pettine)
The third and final coordinator to take the stage was Special Teams leader Shawn Mennenga.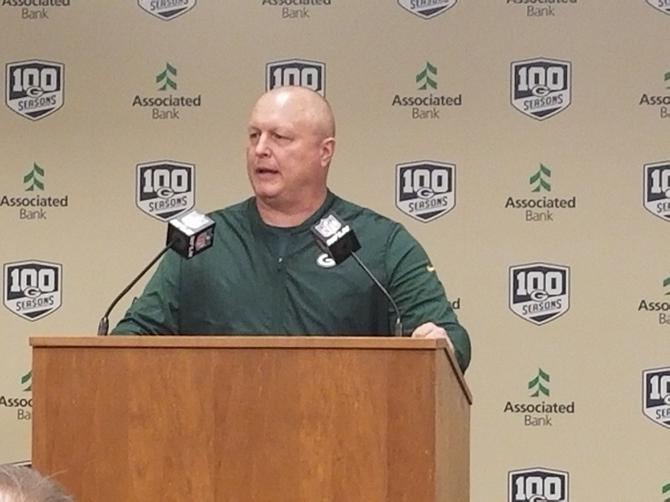 (Special Teams Coordinator Shawn Mennenga)
While Mennenga has NFL experience, last year he served as the Special Teams coordinator at Vanderbilt University and he said his philosophy won't change now that he's back in the pro's:
 (Audio: Shawn Mennenga)
The last couple of assistants were hired and the strength and conditioning staff were finalized over the weekend so here in it's entirety, is the 2019 Green Bay Packers coaching staff.
Head Coach - Matt LaFleur
Offensive Coordinator - Nathaniel Hackett
Defensive Coordinator - Mike Pettine
Special Teams Coordinator - Shawn Mennenga
Quarterbacks Coach  - Luke Getsy
Running Backs Coach - Ben Sirmans
Wide Receivers Coach - Alvis Whitted
Tight Ends Coach - Justin Outten
Offensive Line Coach - Adam Stenavich
Assistant Offensive Line Coach - Luke Butkus
Offensive Quality Control - Kevin Korger
Offensive Assistant - Jason Vrabel
Defensive Line Coach - Jerry Montgomery
Outside Linebackers Coach - Mike Smith
Inside Linebackers Coach - Kirk Olivadotti
Defensive Backs Coach - Jason Simmons
Assistant Defensive Backs - Ryan Downard
Defensive Quality Control Assistant - Wendel Davis
Defensive Quality Control Assistant - Christian Parker
Special Teams Assistant - Maurice Drayton
Special Teams Quality Control - Rayna Stewart
Strength and Conditioning Coordinator - Chris Gizzi
Strength and Conditioning Assistant - Mark Lovat
Strength and Conditioning Assistant - Thadeus Jackson
Strength and Conditioning Assistant - Grant Thorne
If there's strength in numbers, LaFleur's staff should deliver for it will mean one coach for every 2.2 players on the 2019 53 man roster.