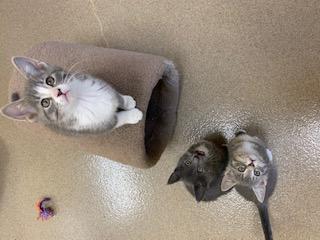 This adorable trio is Sage, Silvertin and Seraphina! These cuties are all siblings and would love to find their forever homes! They are about 3 months old and are ready to find their new families that are ready for a spunky fun kitten and the work that comes with a new kitten! Call or email and shelter if you are interested in them!
Meet Sage, Silvertin and Seraphina at the Lincoln County Humane Society at 310 N Memorial Dr, Merrill, 715-536-3459. Check out the adoptable pets here https://www.furrypets.com/2012/pets-detail1.php
Adoptable pet of the week brought to you by Marathon Town and Country.
Please note:
LCHS CLOSED UNTIL FURTHER NOTICE
The Lincoln County Humane Society will be closed until further notice, effective immediately.
Based on the latest information and updates from state and local officials about the spread of COVID-19, we have decided to close our facility at this time. We will work with our Board of Directors to determine when it is best to reopen.
We are making appointments for:
-adoptions (you must send an application in advance, either through email to [email protected] or through standard mail to 310 N.Memorial Drive, Merrill WI 54452)
-reclaiming your own animal that was brought to LCHS as a stray (you must call in advance 715-536-3459)
-you have found a stray/lost animal in Lincoln County (you must call in advance 715-536-3459)
-you have a scheduled appointment to surrender your own animal (you must call in advance to schedule an appointment 715-536-3459)
We are not accepting volunteers at this time.