The Green Bay Packers made a pick not of need, but of want Thursday night to open the NFL's first, and hopefully last, virtual college player draft.
The selection of Utah State quarterback Jordan Love set off a lightning rod of reaction on social media, which wasn't around the last time this happened. But the tweets and posts would have read almost identically back in 2005 when Ted Thompson drafted Aaron Rodgers with Super Bowl winning and three time MVP Brett Favre still in town.
It's the circle of life.
General Manager Brian Gutekunst has made the same, forward thinking choice by taking the athletic, 6-4, 225 pound early entry junior from Utah State knowing full well Rodgers has four years remaining on a contract restructured two years ago. Rodgers laid in wait for three seasons before taking the torch and who knows how long it will be before he gives it up. Financially speaking, the Packers are deeply indebted for the short term. The 176 million dollar deal includes salary cap numbers of 21.6 million for 2020, 36.3 million the following season and 39.8 million for 2022 before it expires after the 2023 season when Rodgers will be a ripe, 39, pushing 40 year old quarterback.
But NFL GM's, and I've covered many, from Ron Wolf to Ted Thompson and their former proteges John Schneider, John Dorsey and Reggie McKenzie have all told me when you get a chance to draft a special football player, you take it. Gutekunst believes he's done just that with Love.
He even traded up four spots in round one to make sure he got him. The deal with the Miami Dolphins cost the Packers their original 30th position and a fourth round pick, the 136th overall. It was curious at the time considering the teams between the Dolphins and Packers, Seattle, Baltimore and Tennessee weren't necessarily in the market for a quarterback. There may have been whispers that teams like Indianapolis or the Las Vegas Raiders were seriously in the market, and preparing to jump above pick 30, forcing the hand of Gutekunst.
Still, on a team that came within a game of the Super Bowl last season and one with more pressing needs than an understudy to a two-time MVP, Gutekunst pulled the trigger and was asked in a conference call late Thursday night if that decision took more than a little gumption:
  (Audio: Brian Gutekunst)
Gutekunst made it clear, this is not just a pick for the future but a player who will make the team better:
(Audio: Brian Gutekunst)
Gutekunst was on Thompson's personnel staff 15 years ago when Favre developed an icy relationship with his heir apparent.   He said he didn't consult Rodgers about his pick and hasn't touched base with him for his reaction but added Rodgers is well aware of the business of football and he thinks his quarterback will embrace Love and help him develop.
As for the 21 year old native of Bakersfield, California.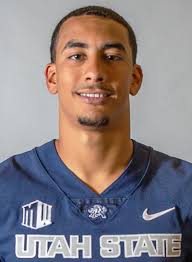 (Jordan Love)
Love had a breakout season as a sophomore in 2018, jumping on every NFL scout's radar.  He threw for 32 scores with only six interceptions in leading the Aggies to an 11-2 record, setting five single season school passing records in the process.   Last year, former Wisconsin Head Coach Gary Anderson returned for his second tour of duty at Utah State and with new offensive personnel, Love regressed a bit.  The Aggies finished 7-6 with Love throwing 20 touchdowns against 17 picks but his arm strength and play making ability was still evident.   
Love said he had very good meetings with Packers Head Coach Matt LaFleur, offensive coordinator Nathaniel Hackett and Gutekunst not only at the scouting combine but in a virtual visit last month.
Jordan said he understands what he's getting in to with Rodgers still entrenched in Green Bay and he's ready to deal with age old dilemma of wanting to play right away versus learning what it takes to play in the NFL.
(Audio: Jordan Love)
Love was excellent student athlete, earning all-academic honors in the Mountain West Conference and he already earned his degree last fall.
He grew up with adversity after his father, Orbin Love, passed away when Jordan was 14 years old.    He said his family, friends and teammates helped propel him to fulfill his father's dream of making it to the NFL.
The Packers have been blessed with Hall of Fame play at the quarterback position for nearly 30 years.    Gutekunst and Love will be bound and determined to stretch that out for another decade.
What others say about Love.
Athlon Sports:  "Between his arm talent, quick release, natural athleticism and gunslinger mentality, Love is loaded with traits of the new QB prototype.  The tools are outstanding and while he's still a little unpolished, it won't take a ton of coaching to unlock Love's remaining potential.  If he becomes more adept t reading things pre-snap, to go along with his ability to make plays late in the down, there's star potential."
USA Today:  "Good arm strength. Can make any throw with an efficient and effortless release.  Flashes big play ability.  Displays above average deep ball accuracy.  Spins the ball with tremendous velocity into tight windows.  Can make throws from almost any angle.  Shows anticipation of where his primary read is going to be.  Comfortable in the pocket and will stand in and take a hit if it means completing the pass.
Bob McGinn, The Athletic:   NFL Scout's take in pre-draft report:  "He has the most physical upside of any of those guys.  The great ones make things look easy.  He makes it look easy.  He's an effortless thrower.  He played with nobody around him.  This year he was just out there winging it trying to make plays and win games.  Did he develop some bad habits?  Yeah, of course he did.  But you can rein that in.  It's easier to get guys like that to play it safe and check down be chain movers.  He's the only quarterback I ever scouted who will throw into bigger windows as a pro than he did in college.  Those guys did not get open for him.  If he ends up outside the top ten we could be saying, 'How the heck did Jordan Love last that long?'  he's just got that play making ability.
Packers First Round History with Quarterbacks
1959   Randy Duncan,  Iowa.   Never played for the Packers, leaving for Canada just weeks before Vince Lombardi was hired as Head Coach.  Finished his career in the AFL.
1967   Don Horn,  San Diego State.   Lasted four seasons playing 20 games with 6 starts for Green Bay.  At one time, he held the single game passing yardage record for the franchise, throwing for 410 yards against the St. Louis Cardinals in December of 1969.
1972  Jerry Tagge, Nebraska.   A product of Green Bay West High School and came off a National Championship season with the Cornhuskers.  Lasted three years with 18 games and 11 starts.
1981  Rich Campbell, California. He lasted four years as Lynn Dickey's backup but appeared in only 7 games as an injury replacement.   Claimed then Offensive Coordinator Bob Schnelker ruined his confidence by questioning his mechanics and arm strength as a rookie.
2005 Aaron Rodgers, California.   Waited three years to succeed Brett Favre, went on to win Super Bowl XLV as MVP and two time NFL MVP and remains the highest career passer rating leader in the league history.
Random First Round Notes
The first virtual draft because of the COVID 19 pandemic went off with only a few hitches as Commissioner Roger Goodell announced each selection remotely from his basement as the league raised thousands during it's Draft-A-Thon through the night.    There were all kinds of interesting video linkups at the homes of GM's, Coaches and players.
Only two other NFC North teams picked on opening night, the Chicago Bears gave up their first pick in the 2018 Khalil Mack trade with the Raiders.  Drafting third overall, the Detroit Lions selected Ohio State defensive back Jeff Okudah.  The Minnesota Vikings had two picks, wide receiver Justin Jefferson of LSU arrived at pick 22 and Minnesota took TCU linebacker Jeff Gladney at pick number 31 after a trade with the 49ers.
New Dallas Cowboys Head Coach Mike McCarthy got a wide receiver on opening night, Oklahoma's CeeDee Lamb at pick 17.
Three were 7 offensive linemen taken, 6 receivers and four quarterbacks, aside from Love, Joe Burrow went number one to Cincinnati, Tua Tagovailoa was taken by Miami at number five and Justin Herbert of Oregon was Miami's choice at number 6.
The SEC produced nearly half of the first round talent with a single conference record 15 players chosen, five from National Champion LSU.
Goodell announced midway through the round when the Las Vegas Raiders were on the clock that the franchise, which was supposed to be hosting the weekend extravaganza on the Vegas strip, will be awarded the 2022 NFL Draft.  The Packers and the city of Green Bay had been making a strong bid to host.   The earliest the NFL would come to Green Bay now would be in 2024 with Cleveland next year and Kansas City in 2023 playing host.