For the first time since the Green Bay Packers were trampled at Levi's Stadium in the NFC Championship Game, Head Coach Matt LaFleur's three coordinators fielded questions from members of the state media.
A triple header of video conference calls were conducted Friday afternoon featuring Special Teams Coordinator Shawn Mennenga, Offensive Coordinator Nathaniel Hackett and Defensive Coordinator Mike Pettine.
An unlike the recent telephone only conference calls featuring General Manager Brian Gutekunst or Aaron Rodgers or LaFleur, there were no technical glitches or unmuted phone lines creating problems.
Each coach was on the line for at least 20 minutes.   We'll take 'em one by one, beginning with the Special Teams.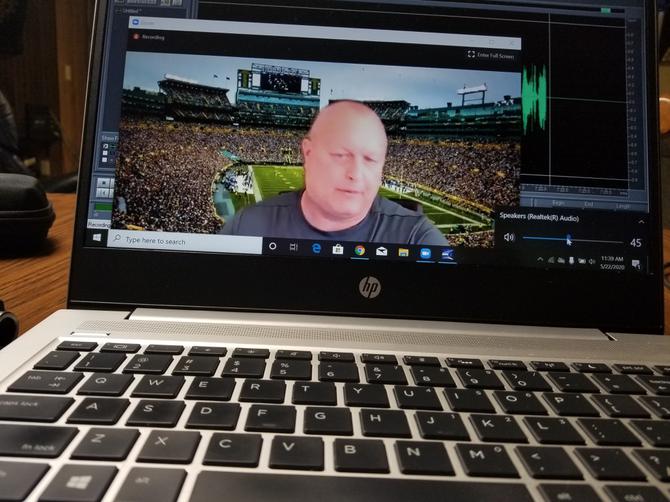 (Shawn Mennenga via my laptop)
If there's one coach who leads the entire team in the number of players under his watch, it's Shawn Mennenga.    He's responsible for all but only a handful of star players who don't take snaps on specialty units but Mennenga said even Davante Adams pops into meetings now and then as he's a part of the "hands team."
Mennenga's unit, particularly in the return game, was struggling mightily through most of the season.   They were on pace to set an NFL record for the most futile punt return game in history,  with negative return yards through mid-season.   Then, Gutekunst found Tyler Ervin and he not only gave the return game a spark, he energized the entire special teams, even helping out with some offensive snaps.  An unrestricted free agent after the season, the Packers brought him back with a new contract and Mennenga said it was an important signing.
 (Audio: Shawn Mennenga)
As for the kicking game, Mennenga was thrilled for Mason Crosby's strong season, having survived competition in camp, heartbreaking family medical issues all year and getting rewarded with a new contract that will almost certainly have him finish his career as a Packer.   Mennenga said Crosby is not only the leader of the special teams room, he's among the most respected players on the entire team.
Second year punter J.K. Scott has to battle through inconsistencies in his game but Mennenga believes he'll be fine.
He may have one less play to practice in the future.    NFL owners will vote next week on a proposal that could do away with the onside kick.   Instead of the kick, an offense would get one, un-timed snap from the 25 yard line and they would need to gain 15 yards to retain possession of the ball.     Mennenga isn't so sure about this idea:
 (Audio: Shawn Mennenga)
Next, we'll go on the offensive: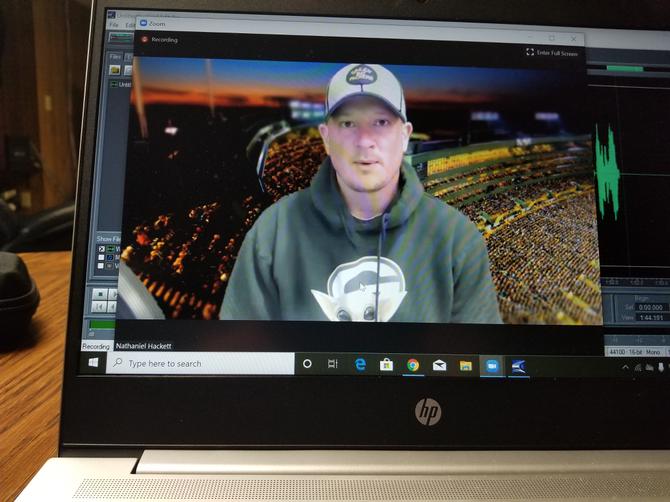 (Offensive Coordinator Nathaniel Hackett)
Talk about having a newfound appreciation for teachers, Offensive Coordinator Nathaniel Hackett has it now.    Forced to teach the same way he visited with Packer beat reporters Friday, Hackett said this virtual off-season has been a challenge, especially considering it's year two of LaFleur's system when a big jump in retention and on-field production is expected:
 (Audio: Nathaniel Hackett)
Hackett said as far as he can tell, Aaron Rodgers and Jordan Love are interacting just fine during the virtual Zoom classroom sessions.    He believes the other two high draft picks, running back A.J. Dillon and tight end Josiah Deguara will give the offense even more flexibility this fall.
Finally, the defense isn't about to rest.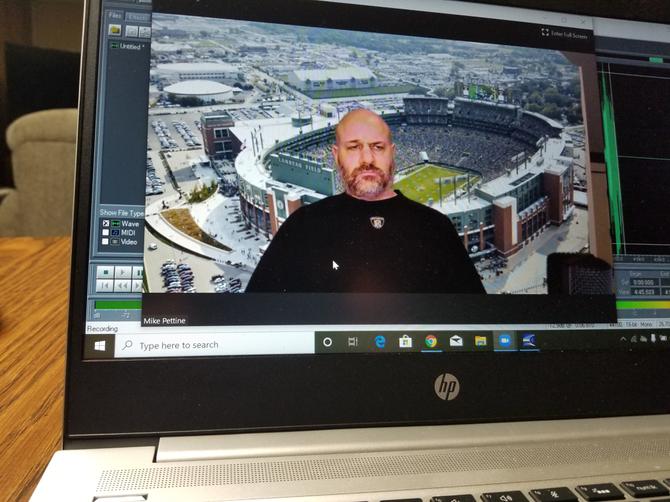 (Defensive Coordinator Mike Pettine holds virtual news conference)
As I mentioned at the start, this was the first time we've spoken with coaches since the San Francisco 49ers dismantled the Packers and earned a trip to the Super Bowl.   The 49ers were so dominant on the ground in the 37-20 victory, Jimmy Garoppolo needed to pass the ball only 8 times.   They rushed for 285 yards as a team and Raheem Mostert piled up 220 yards himself with four touchdowns on the ground.    Defensive coordinator Mike Pettine's session lasted over 30 minutes and the question I wanted an answer to was, what the hell happened to your run D last January?   Pettine answered that question honestly and at length along with a followup on whether he'll change the way he teaches run defensive gap responsibility.
 (Audio: Mike Pettine)
Pettine's side of the ball didn't get much help in the off-season, with the exception of free agent linebacker Christian Kirksey.  The draft brought a mid-round linebacker and late round depth but Pettine is optimistic the unit will take a big step forward considering so many impact players last year were new to the system, the Smith brothers and both safeties.
But Pettine welcomed the only major new addition to LaFleur's coaching staff in new secondary coach Jerry Gray who replaced Jason Simmons who left to join the Carolina Panthers.  The former All-Pro with the Rams as a player, Gray has been a defensive assistant with several teams,  most recently with the Minnesota Vikings.   Pettine thinks he'll be a fresh voice and a big help.
 (Audio: Mike Pettine)
In a virtual off-season, the virtual session with coordinators was both instructive and interesting.  Here's hoping the next visit will be face to face back at Lambeau Field.